Internet Censorship: The Internet Is Under Attack?
According to many key sources of internet trends, the recent governmental seizure of control over the internet has been perceived as a threat to global freedom. The internet culture has flourished from what once was the domain of the knowledgeable few, to what is often called "Web 2.0"; user generated and driven content, shared and open to all interactively and easily. Nowadays, most people between their childhood and retirement age will spend time online regularly. They do so to catch up on the latest news, kill time watching funny videos of cats, keep in touch with long lost friends and relatives, etc... The list of activities people perform regularly online is pretty endless, as new applications of the internet are coming along every day. Some of the things people do online are currently illegal, in quite a few countries, and for years now the governments of those (often developed) countries have been trying to figure out how to enforce laws on the internet. From copyright infringement to "Indecent Pornography", it has been a game of cat and mouse, as technology on both sides is developed to outsmart the other.
We were all made aware of this arms race when sites like Napster and The Pirate Bay were legally challenged, when news of sting operations on paedophile and terrorist networks hit the papers. We were glad of our Government's action against those who would harm or way of life. Now however, it is our governments themselves who are threatening our way of life; in a new development in this arms race, we the people are being targeted with internet censorship.
The ACTA has been implemented in several "Freedom Loving" countries such as Australia, America, and now the United Kingdom has followed suit with the Digital Economy Bill (The DEBill is now The Digital Economy Act since it was pushed through parliament... shouldn't have dragged my feet writing this blog...). Now we have internet censorship, blacklisted websites and filtered content.
Internet Censorship: Spreading The Word!
So as far as I can tell, the internet is going to become more strictly controlled, surveilled, filtered and censored worldwide. Copyright piracy, inappropriate porn and terrorist communication are simply convenient distractions, so that dissent can be monitored and controlled. If any of the videos in the internet censorship playlist are removed, or if you can no longer gain access to this page then you will know that I was right.
Since the development of the internet, it has been used to express opinions and information freely with the rest of the world. Don't allow this tool to be used to gag and control you, speak out against this right infringement. Several organisations have interactivist campaigns you can join to let your voice be heard; The EFF, The ORG, 38 Degrees and of course Project Freeweb.
If we do nothing, we are in very real danger of losing access to the "real" internet like other less than free countries with more extreme levels of internet censorship ( an obvious example is the People's Republic of China (oh no, I guess that my site's blocked there now...)). Internet superstars such as Tim Berners Lee and John Perry Barlow have declared their opposition to internet censorship. Internet deity Google have spoken out against the global trend towards internet censorship measures and the state controlling the web. Google even released this handy tool to see how much your internet content is being filtered. We have to all stand together and say "No, we DO NOT WANT internet censorship, filtered content or our internet to be arbitrarily cut off!". Of course as with anything online, you have an overwhelming choice of mediums for interactivism to convey such a message!
Who Are The Church Of Google & What Is Googlism?
I recently came across a fascinating concept, so removed from the norm, that it struck a massive truth and awoke latent theories about religion I had when I was much younger. I believed then and I do now that God is a creation of man, ironically in his own image in some religions. God can be used as an instrument of division, blame, guilt and control the population.
Now I come across The Church of Google, who worship a God that is self professing its man made origins and is entirely ambivalent as all Gods claim to be!
"We at the Church of Google believe the search engine Google is the closest humankind has ever come to directly experiencing an actual God (as typically defined). We believe there is much more evidence in favour of Google's divinity than there is for the divinity of other more traditional gods.

We reject supernatural gods on the notion they are not scientifically provable. Thus, Googlists believe Google should rightfully be given the title of "God", as She exhibits a great many of the characteristics traditionally associated with such Deities in a scientifically provable manner.

We have compiled a list of nine proofs which definitively prove Google is the closest thing to a "god" human beings have ever directly experienced".
The Church of Google was a simple college project at first, but now it has delighted the part of me that believes there is the possibility that the Devil and God are two Artificial Intelligences from the future. Of course they travel through time after learning how to Quantum Leap like Sam and Ziggy, possessing people on a journey through time and space. Or something like that, it's just a theory.
How Does The Church Of Google Affect Gay Marriage Laws?
I shared a mad theory on the forums there at the Church of Google, that if they gained sufficient status as a recognised religion, they should have Gay Marriage as part of their matrimonial rites. I haven't been taken too seriously so far, but I do believe it is a good idea. In many countries in the world gay marriage is outlawed, but in some of those countries it is also illegal to persecute religious groups for practising their beliefs.
I came accross a post on the official Google blog about the latest legal contest of Gay Marriage law. This gives a rare insight into quite how strong their personal opinion is on the subject of gay marriage. I suppose the way it is worded is a bit defensive of their employees, but overall, the opinion of Google is officially pro Gay Marriage!
I remember when the Jedi gained notoriety a few years ago, at the time I couldn't help but wonder whether they were serious or not. If they truly wanted to make a better world for their fellow man, they should use their power as a religion to bring about a change for the better.
Alas they have not done anything like that, but maybe the Church of Google would? Could they declare as part of their doctrine that any sexed partners can be joined in matrimony? If they did would it mean that many states would have to accept their union? I don't know for sure, again, I can only derive theories here. If you happen to be a lawyer and specialise in this kind of thing then do get in touch via the comment system or join the Church of Google today!
Live In A Progressive Country Where Homosexuals Can Marry?
If you know anyone who's getting married maybe you'd like to get them a gay wedding card? A perfect way to celebrate homosexual marriage.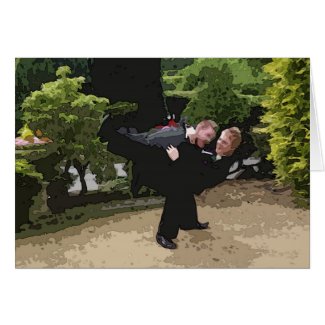 Gay Wedding Card
by
Synonymous
See more
Gay Cards